Kangana Ranaut Criticizes Bollywood for Taking a Stand and Tweeting about Black Lives yet Staying Dead Silent on the Problems Faced by their Own Country.:
Bollywood celebrities have always been in the talks and have never backed out from showing their support in any matter which is domestic or international.
The ongoing controversy regarding the 'Black Lives Matter' movement has also made various renowned personalities from Bollywood to speak up and stand for the cause.
They are showing their full support in the movement and standing by what is right. However, the decision taken by the people from Bollywood in standing up and showing their support in the 'Black lives Matter' movement was not much appreciated by actress Kangana Ranaut.
She has been criticizing Bollywood for taking a stand in the current movement which has taken place in the United States. She feels that Bollywood stayed dead silent to similar problems occurring in India and is now showing its support for a situation that has arisen in the United States.
Actress Kangana Ranaut has always been in the news due to controversies, and she has always stood up for what she feels is right. She is a woman with a strong character and personality and does not fear to get involved in any issues.
She has recently shown a disparity in her opinion and slammed Bollywood contemporaries for showing their support in the 'Black Lives Matter' movement.
She has criticized her Bollywood contemporaries for showing injustice to the locals. She feels that Bollywood did not hesitate before sharing their opinions and commenting on the 'Black Lives Matter' movement which is going on in the United States, but when it comes to showing their support for locals, they turn a blind eye to them and do not speak up.
She is profoundly disappointed by this act of her Bollywood contemporaries.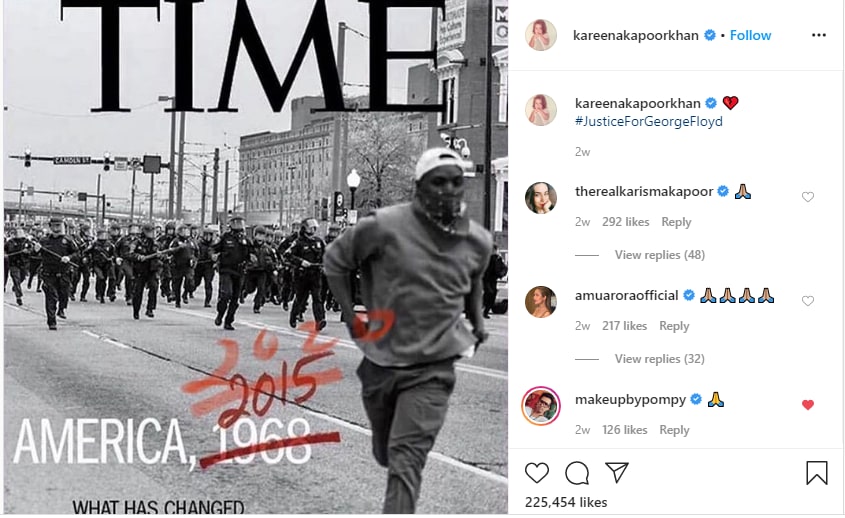 Several Bollywood personalities such as Kareena Kapoor Khan and Priyanka Chopra have shown their anguish on social media and took to their twitter accounts to express themselves.
They showed distress regarding the killing of a black man by a white policeman which has also led to a mass protest in the United States.
Kangana is particularly annoyed by the silence which Bollywood showed on the Sadhu lynching incident which had taken place in Maharashtra where most of the Bollywood celebs live.
The Sadhu lynching incident had taken place a few weeks ago, but no one from the Bollywood industry ever spoke about it. She said that it was a shame that even after the incident, not one person from the Bollywood industry spoke a word in support of the event and remained in their bubble.
But, when it came to the 'Black Lives Matter' movement, they are not hesitating from speaking up. Kangana further went on to say that this was because of their genes that support the pre-independence colonial slavery.
Not only Kangana Ranaut but several other social media users also have similar opinions about Bollywood supporting the 'Black Lives Matter' movement.
Omar Abdullah who is a politician took to Twitter and wrote that he has much respect for all those celebrities who are tweeting and showing their support in the 'black lives matter' movement and that it takes courage for bringing their cowardice to the force by them tweeting for the lives of Americans but not speaking up for Indian lives.